Hosting a website used to be hard work, but the invention of application based control panels changed all that. Today the most popular website hosting control panel is cPanel and, looking at its attributes, it's not hard to see why. cPanel is:
• Easy to customise – cPanel has various themes that can be installed, or you can create your own themes and custom branding to give your cPanel a unique look.
• Effective – anything you need to do can be done with cPanel.
• Compatible – works with all web enabled GUI-based operating systems, and works on desktops, laptops, netbooks, tablets, and smartphones.
• Feature-packed – cPanel comes with a rich variety of pre-configured extras that will make it easier than ever to create your dream website.
It is the last of these attributes that we'll focus on in this article. So many of the features in cPanel are immediately useful whether you are a seasoned website host or a complete novice.
1. Set up and manage email accounts
Even if you haven't got a website yet, you can start making the most of your domain name right away by ensuring all your staff have professional email addresses. That's the most basic step and probably the first thing every new website owner will take care of first.
You have access to all the email functions through the email section on cPanel. You'll find all the various features are grouped into these collapsible sections, which makes it easy to control what you see on the screen. Some cPanel themes even allow you to drag and drop the sections to the order you want them to appear in.
Obviously before you can do anything else, you'll need at least one email account to work with. You access this through the Email Accounts link. The default option allows you to add a new email account, as shown below: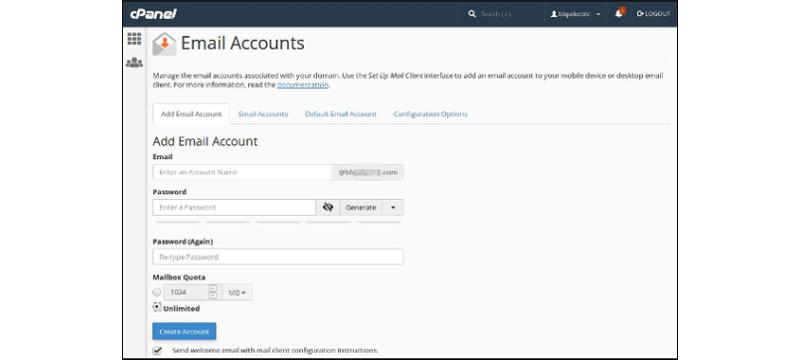 It's all very self-explanatory. Once you have at least one email account on your domain, it's then possible to use the other email functions. The primary things you can do with email include:
• Routing – you'll need this feature if you're going with a non-standard configuration, such as if you are receiving or sending emails through a third party system.
• Filtering – you can create rules for how the server should respond to incoming messages based on the sender, subject, or other criteria. Filtering at the server level can be preferable in most cases, because it prevents unwanted messages being downloaded to your devices, saving you bandwidth.
• Authentication – DKIM is an authentication technology that attempts to automatically verify the sender of an incoming email message to help protect you from spam. SPF is used to authenticate your outgoing messages to help avoid spam messages being sent out through your domain. It's recommended to leave these settings on, but they may block messages that don't fit the rules.
• Encryption – You can create and use PGP keys to use with your emails.
• Forwarders – you can automatically forward incoming messages to another domain.
• Autoresponders – these are used for automatically replying to an incoming email. These should be used with some caution because there are times when automated responses are appropriate and times when they are not.
2. File Management
Most of the time it's more efficient to use FTP for managing files on your server, but when you just need to do a quick fix, the built in file manager of cPanel is there for you. You will find this in the Files section. Everything works very similarly to a desktop file manager like Windows Explorer, Thunar, etc. There is a very small learning curve, but once you understand how it all works, it will be an additional string to your server management bow.
3. Image Management
If you've uploaded a batch of image files to the server, you can save some time on common image processing tasks by allowing cPanel to automate those tasks. You'll find the image managing tools in the Files section under Images.
The tools available include:
• Thumbnailer – automatically generate thumbnail versions of all the images in a directory.
• Scaler – if you forgot to scale your images to be server friendly before uploading, this tool will allow you to do that.
• Converter – if you uploaded your images in the wrong format, use the converter to change them to the correct format.
There are other ways to perform these tasks, but being able to do it directly on the server can save you some time and effort.
4. Domain Management
This is one of the more advanced features, and you're more likely to need to use it when you have multiple domains to manage through one account. As an example, you may have created a domain for your local business, widgets.co.ie for example, and another domain to cater for international audiences (this allows you to tailor your content specifically for Irish visitors on one domain, using local expressions that may not be well understood outside of Ireland).
You can make one of your domains a subdomain or add-on domain for the other. For example, widgets.co.ie might be an add-on domain of widgets.com, and while they each are independent, they can be managed from a single access point and can easily share resources.
It's important to understand the difference between subdomains and add-on domains. A subdomain is really just a directory within a domain that can be used to help visitors go to the right location easily.
For example, mcdu.equicom.net is a subdomain of equicom.net, and can be accessed just as easily by typing equicom.net/mcdu – the important part is that it's not a separate domain even though the content can be completely distinct from the main website content.
An add-on domain is very different. This does require purchasing an additional domain name, and allows you to host the content for more than one domain in the same server space.
Another type of domain hosting is a parked domain or alias, which is where you use more than one domain name to point to the same location. This also involves purchasing an additional domain, but unlike add-on domains and subdomains, you don't create a separate directory for the content.
5. Database Management
Not every site needs a database, but if yours does you will find all the tools you need in cPanel. Creating a new database can be done with the MySQL Wizard, and then you can do all the database operations by accessing phpMyAdmin.
6. Security Management
Keeping your websites secure should always be a top priority, and cPanel certainly provides plenty of tools to help you do that. Using the cPanel security tools you can install an SSL certificate, block access from certain IP address ranges known to be malicious or undesirable, protect assets on your site from hotlinking and leeching, and set up SSH access.
7. Site Backup Management
In addition to the ordinary security procedures, which help keep your site safe from attack, it's still the most sensible precaution to make regular backups just in case a problem does cause something on your site to break.
cPanel provides many tools to make it simple to back up and restore your site using either manual or automated processes. The learning curve here is a bit steeper than for most of the other tasks you might do in cPanel.
The first option is the simplest. From here you can download the most recent incremental backups made on your server, which is a simple archive file in tarball format (.tar.gz)which most modern archiving programs can unpack.
File Backups is away to restore individual files that have somehow changed in an undesired way. This saves some time because only the one file that needs restoring will be restored.
Using Cron Job Backups is not something most people will want to bother with. Cron is a Linux and Unix task scheduler.
DNS Zone Backups are just the same as Full Backups but on a multi-domain site you can specify that you only want one of your domains restored.
Using the Database Backups feature, you can backup and restore databases, but only if you have set your system to already backup databases separately to the rest of the site (which is not really necessary).
The effectiveness of Email Backups depends on how often you download your email messages and remove them from the server. Obviously messages that are not on the server when the backup occurs will not get backed up on the server.
SSL Certificate Backups are simply a backup of the SSL certificate for a domain, if one exists. This feature is a security tool to be used in case somebody gains access to your site and replaces the proper SSL certificate with a fake one.
8. Softaculous Software Installer
We saved the best for last. With Softaculous, you get access to many of the hottest titles in web application software. While it's certainly possible to install each application individually without using Softaculous, you won't normally want to do it that way because it would involve a lot of extra work and configuration.
When you use Softaculous, everything is configured automatically, tailored for your own website. Many site owners don't realise it, but Softaculous contains such a wide range of software, there is pretty much everything you could ever need for any business purpose.
In fact, with Softaculous, you be able to eliminate a lot of your present software licensing costs, because you can replace the offline software you use in your office with online software you run from your web server.
Just to give you a small taste of what you can expect from Softaculous:
• All the big name CMS packages are present, including WordPress, Joomla, Drupal and many more. Using a CMS is not strictly necessary, but if you do want to use one, it's good to know that it is so easy to install directly onto your site this easily.
• There are powerful mainstream e-Commerce packages too, including PrestaShop, Magento, Zen Cart, BoxBilling, and more.
• You also have access to some less mainstream commerce packages that are perfect for specific niches. For example, boost a real estate website with the Open Real Estate package, keep track of hotel bookings with Booked, or run a tech support business with Vision Helpdesk.
• For bigger businesses there are enterprise level tools including ERP and Project Management solutions. Many of these have a clear focus on IT businesses, while others are more general in nature. Feng Office is probably the most general of the available options in project management. There are ERP tools for CRM (YetiForce, SugarCRM, Vtiger, etc), accounting (FrontAccounting, Akaunting, WebERP), HRM (OrangeHRM, Jorani), and collaboration (EGroupware, GroupOffice, Tine, etc).
• Educational organisations will also find software aimed mainly at their industry, including classics like Moodle, Chamilo, ATutor, TCExam, eLabFTW, and many others.
• There are also tools for hosting video collections, music, social media platforms, multiplayer games, and even personal cloud storage solutions (eg. OwnCloud, NextCloud, etc).
In total there are 25 categories with over 400 individual applications to choose from, and also the SitePad website builder for those who don't have a preference for developing sites in HTML.
Concluding remarks
With all these built in features, and quite a few additional ones that aren't covered above, you may expect cPanel to be hard to use, but in truth it is exceptionally easy. It's built more for functionality than beauty, but everything just works.
While using cPanel is very easy, there is plenty of documentation to help, and for those who want to truly master the technology there is even a cPanel University where you can learn every detail and get the credentials to prove it.
Because cPanel is the most popular web hosting control panel by a very large margin, learning to use it is one of those skills that will always be a genuine asset.
Most importantly, cPanel empowers anyone (regardless of technical ability) to effectively manage a website easily.